A recent video from Genshin Impact shows Geo Archon Zhongli trapping his fellow Archon Venti in a cave using his Elemental Ability.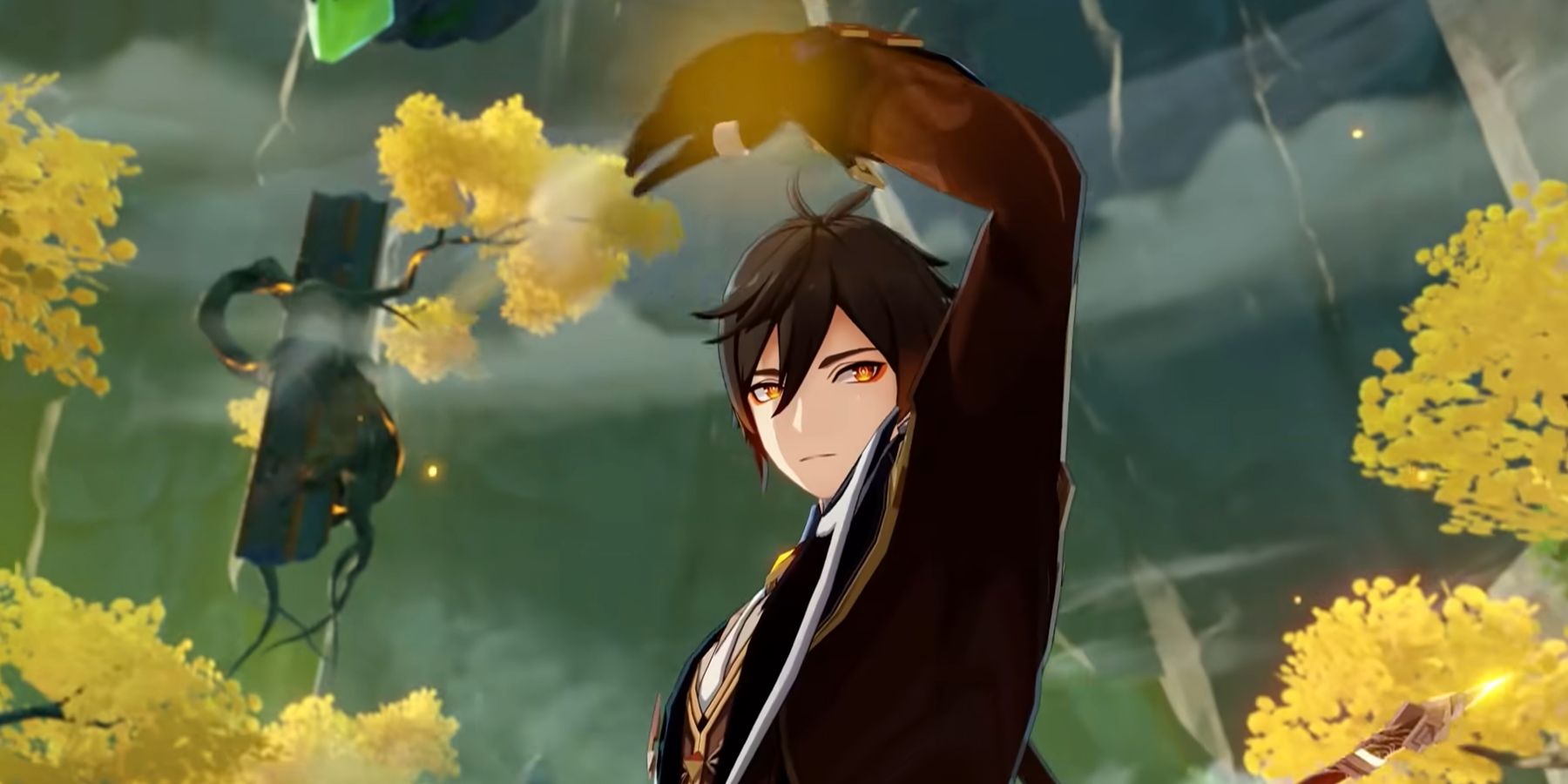 Genshin ImpactThe game's frequent update schedule allows the game to constantly expand its map by adding new regions. Version 2.6 in progress has added the long-awaited Chasm region, which is divided into two main parts – the above-ground terrain and the underground mines.
The vast world of Teyvat offers a unique environment that allows players to visit different locations and capture special moments. A new video posted on Genshin Impact subreddit shows an interesting interplay between the game's first two archons, Venti and Zhongli.
RELATED: Gymnast choreographs floor routine for Genshin Impact's Zhongli theme
Reddit user BruhMoment_Memes shared a hilarious video that shows how a Zhongli player managed to trap Venti in one of Mondstadt's caves. This was accomplished by activating Zhongli's elemental ability, Dominus Lapidis, which allows him to generate his famous pillar. The pillar model was large enough to trap Venti in the small cave, located near the first Statue of Seven that players encounter in Starfell Valley.
The video is popular with the community as it has gathered over 4,000 upvotes. The title states that Zhongli has had enough, which likely alludes to the fact that Venti is known to play tricks on Liyue's protector, and this is his revenge. Several responses in the comments section agree that the wine-loving bard had this coming. Venti was part of the first banner cycle of the current Genshin Impact Version 2.6, where he was placed alongside the newly released character, Kamisato Ayato.
Although Ayato is one of the most anticipated characters in the Genshin Impact, several players still pulled for the Anemo Archon, even though this is his third limited-banner appearance. He is still considered one of the best supports in the game thanks to his elemental blast, which is probably one of the best abilities in the game as it makes fighting a group of enemies incredibly easy. Another reason why he is considered an S-level character is the fact that he is a very useful unit on the battlefield, even without a proper weapon or set of artifacts.
Similar to Venti, Zhongli is also a great addition to almost any Genshin Impact team composition. He is considered by many to be the best support in the game, thanks to his versatility. Zhongli's elemental ability can generate the strongest shield in the game, which makes passing through boss domains much easier. Its last rerun was placed in the second cycle of banners of Genshin Impact Version 2.4, where he was part of a double banner alongside Ganyu.
Genshin Impact is now available for PC, PS4, PS5 and mobile devices. A Switch version is currently in development with no confirmed release date.
MORE: Perfectly timed Genshin Idle Impact Animation Shows Yae Miko Killing Bennett
Why are some Call of Duty: Warzone players disappointed in the Godzilla vs. kong
Read on
About the author